Some of the venues I've played
Here are some of the venues I've worked at in the last year. I went through the 2009 diary to list these venues. I decided to tell you which ones have noise limiters as this in most cases severely limits the volume of the disco. I will probably add to this list as time goes on.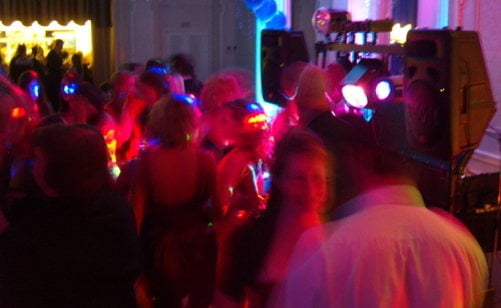 www.farbridge.org.uk
www.bartholomewbarn.co.uk

www.fontwellpark.co.uk

www.weststokehouse.co.uk

Yapton village hall

www.newforesthotels.co.uk/BartleyLodgeHotel

www.ramadajarvis.co.uk/hotels/brighton

www.upwalthambarns-weddings.co.uk

www.lewesconclub.co.uk

www.careysmanor.com

Netley police training college

www.brunswickpub.co.uk

www.wistonhouse.org.uk

www.lansdowneplace.co.uk *noise limiter

Oving Jubilee hall

www.newickpark.co.uk

www.bestwestern.co.uk/Hotels/Best-Western-Brighton *noise limiter. I am told it's just for show but no one told me at the time.

www.cisswoodhouse.com *noise limiter, but not too bad now in 2011. Complaining neaighbours moved away. Always a good atmosphere and doesn't need tonnes of volume

www.ghyllmanor.co.uk

www.southlodgehotel.co.uk

www.chatsworthworthing.co.uk

www.goodwood.co.uk/site/content/hotel

www.kingalfredleisure.co.uk

www.devere.co.uk/our-locations/hartsfield-manor.html

www.hydrohotel.com

www.theburleymanorhotel.co.uk

www.walledgardencowdray.co.uk No *noise limiter but the owners (husband and wife) do come in some time into the event and get you to turn it right down to a tiny volume level. I'm not exaggerating! Oh, and they stand behind you as well just to make sure you obey. Needless to say what was a fantastic party fizzled out shortly after this happened. Adendum:I had a complaint from the venue owner the other day that this couldn't have happened unless it was after 23:00 when the volume has to go down. I wasn't told in advance and I haven't had chance to pull out the booking form yet to check out the finish time, but suffice to say that if you're party/reception is going on after 23:00, be prepared to swallow a huge drop in volume at that point.

www.hshotels.co.uk Spreadeagle hotel Midhurst

Washington village hall

Henfield village hall

www.domecinema.co.uk Also has a stylish function room upstairs (Worthing)

www.bw-roundabouthotel.co.uk West Chiltington West Sussex

www.royalmaritimeclub.co.uk Portsmouth *Noise limiter but doesn't affect the show so must be well calibrated

www.thevenueuk.com Chichester

www.highleymanorhotel.co.uk Crawley area

Westbourne village hall

www.arundeltowncouncil.gov.uk Arundel town hall - Used to be a nice venue but sadly now extremely *noise limited

39 club Bognor Regis

Lodsworth village hall

www.theshiphotel.net Chichester

http://www.leconfieldhall.org.uk Nice venue right in the middle of beautiful Petworth. No problems here.

Well there you are. I won't list all the places I've played in the last ten years as we'll be here 'till flippin' doomsday! I hope you get a snapshot of how much I get around and my general experience. Also, as it's nearly all hyperlinked, you can check out some of the best venues for yourself and avoid the *"venue happy to charge you thousands but won't shell out for sound proofing" ones.

*Noise limiter - Box on the wall or door device which cuts out the power to the show if the volume get's above a certain level. They are not that bad in themselves (some are ok but only one mentioned here is) but when calibrated by the local council noise patrol they are practically guaranteed to ruin your party by being adjusted waaaay too low for any disco to have any impact at all on the dance floor. They are particularly sensitive to bass frequencies which is a shame as most good DJ's have a sub speaker or two. It's the frequency that get's right inside you and makes you want to dance. That's why they're always bigger and more powerful than the top frequency speakers. Some DJ's say they can bypass the limiter but almost all the above venues have cottoned onto this and made it impossible by including all the sockets within 100yards. No one to my knowledge has published a list like this to date but I've become so fed up with this scam that I can't stay silent anymore. I will be including any other venues I find with these devices if I find them to be calibrated in an overcompensating manner.