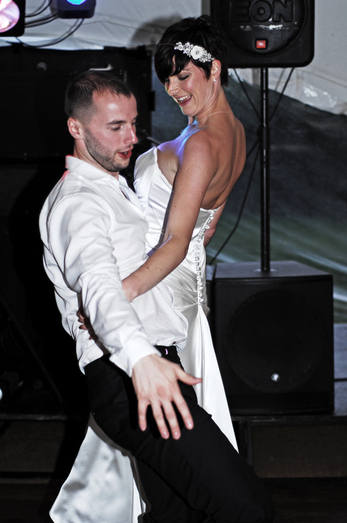 Weddings/civil partnerships are a landmark occasion in your relationship by their very nature and so should be fun and well organized as they will be remembered not just by the bride and groom but by family and friends for life. It follows therefore, that you need a professional wedding DJ (watch out for amateurs supplied by hotels at budget rates) who will show up (!) and smooth things along nicely, announcing the various stages such as the first dance /bouquet toss etc. with confidence and authority -oh and with a decent microphone and sound system too. lastly, as with any party with varying age groups, you need a DJ with a good catalogue of big tunes at his or her instant disposal.
All this stuff is important as it makes the difference between a stylish and punchy affair and one of those "Peter kay" type discos that you've seen on tv. ie: playing or saying the wrong stuff at the wrong time on dodgy gear - ouch!!
Here's an interesting survey from Pro Mobile Magazine:
Within a week of their reception 78% of brides say they would have made the wedding
entertainment their highest priority and 81% say this is the part they remember the most.
Almost 100% say that they would have spent more of their budget on entertainment (as opposed to the cake and dare I say the dress! Ok, forget I said that..) and in an earlier question 65% of the couples that hired a band say that if they could go back and do it again they would have chosen a good Wedding DJ. I have worked with bands many times over the years and it's quite normal to have both a band and a DJ. That is in fact how it all started with the DJ filling in the gaps between sets and eliminating the silence, keeping the atmosphere flowing all night.
If you are still unsure after talking with me and would like a meeting with me before hand, please let me know and I will work with you to set one up. You are welcome to drop in to my place in the Littlehampton suberbs or if you prefer, I can come to you/meet up somewhere.
About 80% of my business is DJ-ing wedding discos. If you book me you will be in the hands of a seasoned professional who will interact with both you and your guests in a friendly manner and do
his utmost to satisfy everyone's musical tastes throughout the evening.
Check out what I sound like doing a typical wedding gig on my Soundcloud page
07976 409 141 (24 hour)
Facebook March 2016: Wendy Landels: Mike Stryk you are worth evey penny you charge. Thank you for making our wedding celebration such fun. X

James
Booked Mike after being let down by our venue resulting in the need to book a DJ last minute for a new venue. Mike was very professional and is extremely good value for money considering the equipment included in the price. Would recommend

Mohjy & Kylie
Mike DJ'd at our wedding in August. Mike played every song our guests requested and did a shout out each time. Everyone hit the dance floor and had a jam thanks to Mike. Thanks again!

Samantha Howard and Richard Genge
Mike you were fab, we would truly recommend you for any event and would absolutely use your services again, timekeeping great, music great, variety great, and loads of people on the dance floor which speaks for itself, all requests were played, you helped make our wedding day truely memorable, thankyou so much, highly recommended!!

Kate & Jason
Wedding reception @ Croucher's Hotel
We would just like to say that Mike was a thoroughly professional, affable guy...did not pester us for information every five minutes...Turned up at the right time to set up with a minimum of fuss...the rig/lights/sound quality was excellent.

On the music side, he played his set around the band to what was quite a tough crowd to judge...and as a favour recorded the whole set as well!! He made some changes and took a few requests...all you could really want from your DJ...Excellent. Recommended.

Andy Strang
Mike, thanks for playing a superb set at our wedding on New Years Eve. We had a great time, and the dancefloor was full with people of all ages from start to finish. Great work managing to satisfy all the requests on the night, as well as all of our advance requests.
Thanks again

Rich and Clare
Mike, thanks so much for your hard work at our wedding at Farbridge in October. Everyone commented on the excellent music and you managed to get everyone on the dance-floor for the entire evening! We really appreciated your clear understanding of the style of music we like and how you adapted it perfectly to keep our guests so happy. Thanks for your contribution to a wonderful day!

Louise & Nick Riederer Hill
Mike, Thank you for providing the fantastic tunes for our wedding on 17 September 2011. In case you didn't notice me, the bride,[I] barely left the dance floor! Also for managing to cope with the interruptions with the serenading by the guys, the surprise fireworks, and also playing some unknown Australian tunes we sent though. Now to work out what we are doing for our music for our Australian celebrations. You were a pleasure to deal with from start to finish.
Louise & Nick

Gemma and Jo Corbett
Thanks Mike for the most amazing wedding disco, we just had the best time. You played all the songs we had requested and everybody commented on how perfect it all was. We cannot thank you enough.
Gemma and Jo

Vince and Kim
Hi mike, We cannot thank you enough for the brilliant evening you gave everyone at our wedding last week. All our friends have commented on how much they enjoyed the night. Your choice of music was spot on and kept the dance floor full all night! We spotted [that] the penultimate tune was personalized for us.
Thank you again,
Vince and Kim
Will Spratt
Mike was the DJ at our wedding in early May. From the moment we contacted him, he was helpful, flexible, responsive, organised, eager and friendly to deal with. Not only this - he also understood the stress involved in arranging a wedding and consequently accommodated last minute changes and requests we made without any fuss.
If you want someone who is going to do a great job, explain things to you clearly and go out of their way to make your party a success, I would get in touch with Mike.