Celebs and DIY makeover
Posted on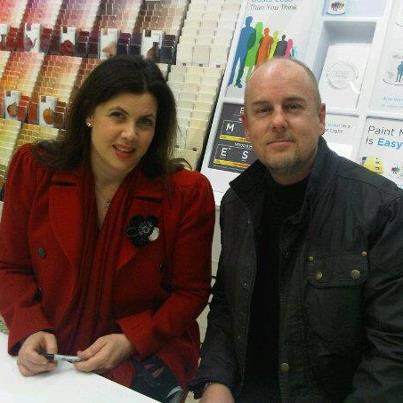 Well you know, as an ex musician and now DJ, I've met my share of celebrities I suppose and Most of the time I'm quite sort of..."Yeah whatever". I must admit though, Sitting next to this lovely lady who actually is probably the only lady left in the develoloped world who actually has that woman look ie: not jeans or trousers all the time, I thought: My god, I've been watching this person on TV for years admiring that look and here she is sitting next to me in another gorgeous outfit and looking even better in real life! Well it was a brief moment and a quick chat, where I admitted to her that when they said who I'd be working with, I thought it was what turns out to be Linda Barker (I've never been to hot with recalling names of TV folks on those magazine type shows). Well I'm glad it was the actual Kirstie Allsopp instead.
Just a quick thanks to all at B&Q Bognor who looked after me and were great: Tony, Yohan and the crew. And hello to the Spirit FM Crew Who I had a good chinwag with too. I never realised how much the look of B&Q has changed with this revamp until I talked to one of the manageresses today. I'm not much of a DIYer, being a renting tennant, but I do recall that grey warehouse look with pallets up to the ceiling on racking shelves with all the dust that accompanies such a system. Well that's all gone now. Plush clean floor level layout with lots of space and thought into where stuff is: eg: if you want curtains then you should find curtain hooks right beside them instead of in a different department like ironmongery or something! Also it's fully hooked into the web with interactive screens where you can order brochures direct to your home and look up instructional films on youtube. Free wifi instore if you've got your ipad or netbook etc. If you're really savvy you can hook up your smartphone and save broadband data allowance. That reminds me, I need to ditch this blackberry and bear the pain of texting on a touchscreen phone so I can actually see a website when I need to without the use of a microscope! Meanwhile back at the ranch (B&Q), they really seem to have thought it through, with the idea being that if shops carry on the way they have been doing, then even more will go out of business. For that alone I admire the forward thinkingness of the board, or if not then whoever isn't getting the credit right now. They've put the money where their mouths are too investing around £3million in this one store alone.
On a different note, thanks to kim for recommending Leanne to me. I think that covers it for this one.
Take care until next time.
Mike